Social media platforms have been growing at an incredible pace. It has become imperative for businesses to maintain their presence on social media platforms to engage, interact and connect with their target audience.
Why should a business use social media?
An individual spends about 2 hours on social media on average1. According to research by Sprout Social, 84% of millennials are more likely to purchase from a company they follow on social media2. In today's age, where everything is shifting to virtual, people expect brands to respond to their queries.
Often, individuals first search for a business's social media profile rather than its website.On the other hand, for businesses, social media provides an open platform to endorse their content, educate their customers, or even strike a conversation with them that can help companies increase their customer touchpoints.
Why is social media marketing so effective?
Here we explore, five major reasons that highlight the effectiveness of social media marketing to business owners:
Social Advertising
Boost Brand Awareness
Increase Inbound Traffic
Increase Conversion Rates
Enhance Brand Loyalty
1. Social Advertising
A majority of social media platforms allow businesses to advertise using a post, video or a story based on the platform's nature.
In the case of Twitter, brands usually use promoted tweets to gain traction on a specific event or in the case of youtube, brands go for video-based advertisements to capture the attention of their target audience.
Social media provides a more targeted approach to advertising. Here, you can mention specific details about your buyer persona, ranging from various demographics details such as age group, location, profession to the psychographic profile in terms of interests, personalities and attitudes of your customer base.
Besides, these ads cost lower in addition to a targeted reach, making it different from other forms of traditional advertising, where more reach usually means spending more money. Whether you are a small business or a big company, you can experiment with social media ads on various platforms as you like. At the same time, you eventually keep learning how your customers respond to it.
Another advantage of running social media ad campaigns is that it gives you performance analysis in real-time. You can view how many people viewed your ad versus how many people chose to click on it, which can help you calculate your ROI metrics more efficiently.

2.Boost Brand Awareness
Social media provides businesses with a unique opportunity to represent themselves. Brands can leverage this by using the content they post and the tone they maintain in their social media profile that eventually becomes a part of their brand identity.
For example, Netflix is known to post many memes based on the series that are very popular among millennials. Likewise, Nike maintains its brand image by posting motivational posts and videos.
How to Use Social Media to Increase Brand Awareness?

Identify your Target Audience
If you are a business figuring out how to start on social media, begin by identifying your target audience.
Are they millennials? Or is your target customer working professionals?
Your target audience will affect the choice of platform and the kind of content you wish to post.
Continuing the above example, Netflix uses Twitter extensively to tweet about current happenings and strike a conversation with its target audience. A B2B company would prefer maintaining its presence on a professional platform like Linkedin.
Decide Your Content
Next, as you finalize your audience and the platform you'll use to connect with them, you will have to decide how your content will help your customers.
Will you be addressing issues that your customers are likely to face? Or will you educate them about newer developments in the industry?
Ensure that your content is visually appealing as social media users tend to have a very low attention span.
Create Conversations
Social media allows a great opportunity for your customers to engage with your brand. Ensure that your handle facilitates conversion with customers. Be it solving queries or asking customers to share their experiences, you can enhance your brand image if you can strike a talk with the customer on these social media platforms.
Measure Efforts
Building a brand on social media, often is a long-term process. However, you can set measurable goals for your social media activities to ensure that the objectives are achieved. Several social media platforms provide such page-based insights for businesses.
Build Authority
You must also remember, that like you, other businesses are also jostling to grab the customer's attention on social media. Thus, you must always ensure that your brand builds Authority on social media by creating content that adds value to the customer.
This can also include borrowed content as it improves the credibility of your business.
3. Increase Inbound Traffic
One of the most effective ways to generate traffic to your business's website is by using inbound marketing. This includes posting links to your blog on social media platforms to garner more viewers or share a video of the product demo by also placing a link to your website. This way, you can relate a call-to-action with each piece of content on your social media page that can eventually lead viewers to visit your website and become potential customers.
4. Increase Conversion Rates
Having a strong social media profile works as a gateway to your brand's website, as updating social media channels with fresh content helps you create and maintain a strong presence on the internet.
Research by sprout social also shows that 48% of customers purchase with a company that is responsive on social media3.
By encouraging customers to share their engagement with the product can help your company with user-generated content that acts as client testimonials on social media. You can also improve your content's visibility using hashtags that help users find posts on relevant topics easily.
5. Enhance Brand Loyalty
Building brand loyalty involves preparing a comprehensive social media strategy including content, campaigns and responding to customers. Companies also require consistency and patience with their efforts on social media. People engage with brands as they resonate with the brand personality, and businesses must ensure that they are putting in efforts to stay relevant to the changing customer preferences
Summing up the effectiveness of social media
Social media marketing is a huge opportunity for business owners to have a strong brand identity.  As the customer shifts to social media sites to find more information about products and brands, your business needs to leverage this opportunity to educate, engage, and interact with your customers to drive sales for your business.
Thus, leveraging social media advertising, increasing conversion rates, driving inbound traffic and building your brand loyalty are some of the areas that highlight the effectiveness of social media marketing to business owners.
Effectiveness of social media marketing to business owners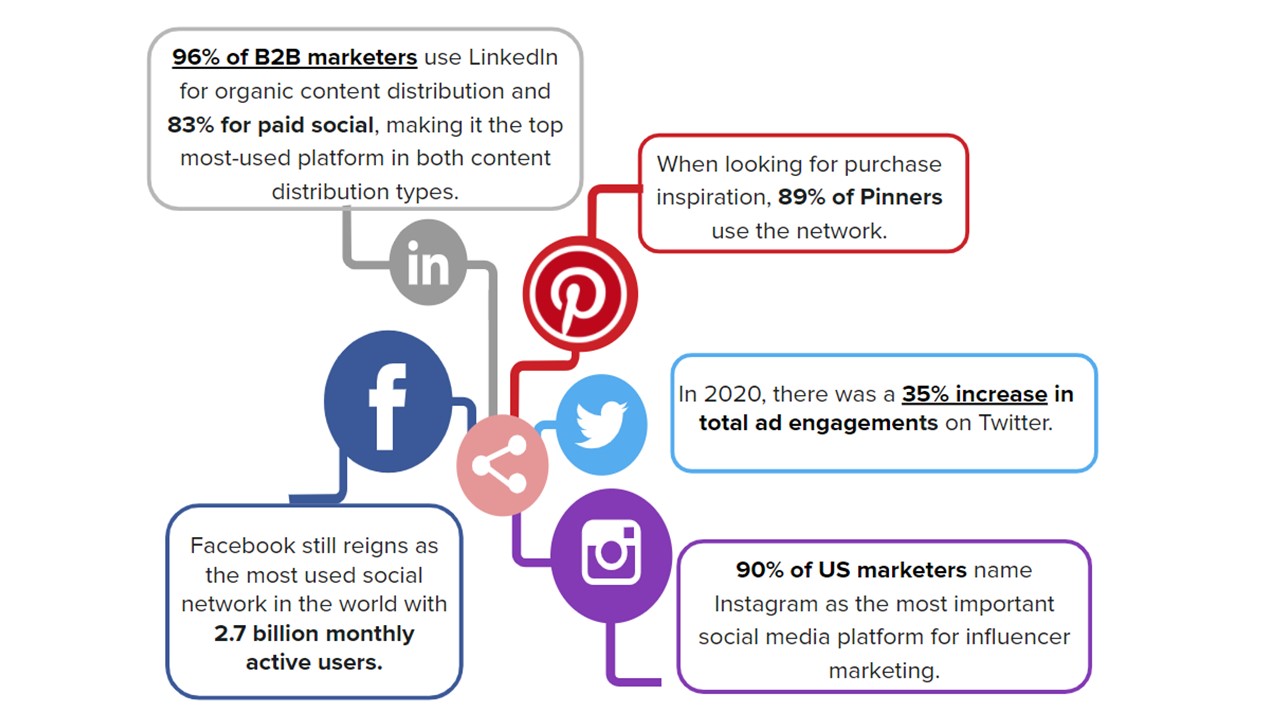 ---