Introduction
SEO means search engine optimization, and it refers to a collection of techniques for getting a website to the top of search engines like Google.
It's the procedure to follow to improve your website's exposure in search engines and attract traffic.
There are two major objectives of SEO.
The first is to assist you in determining what consumers are looking for on the internet so that you can provide high-quality content to meet their needs.
The second goal is to assist you in developing a website that search engines can locate, index, and comprehend.
What function does SEO play in a business?
The goal of SEO is to boost your company's visibility on search engines so that potential consumers can find you. A person in charge of your company's SEO efforts will research and apply various website methods to boost your ranking for specific themes or keywords.
More than 70% of search engine users are more likely to click on one of the top five suggestions in the search engine results pages (SERPS).
To take advantage of this and attract people to your brand, your website must be included among the top results.
A proper SEO ideally places your website on the 1st page of the search engines. Also, the cost-effectiveness of SEO is much more than other methods such as PPC, SMM etc.
What is Digital Marketing Strategy?
A digital marketing strategy is a set of actions that employ online marketing platforms to accomplish certain objectives.
Some key components of a Digital Marketing Strategy are as follows.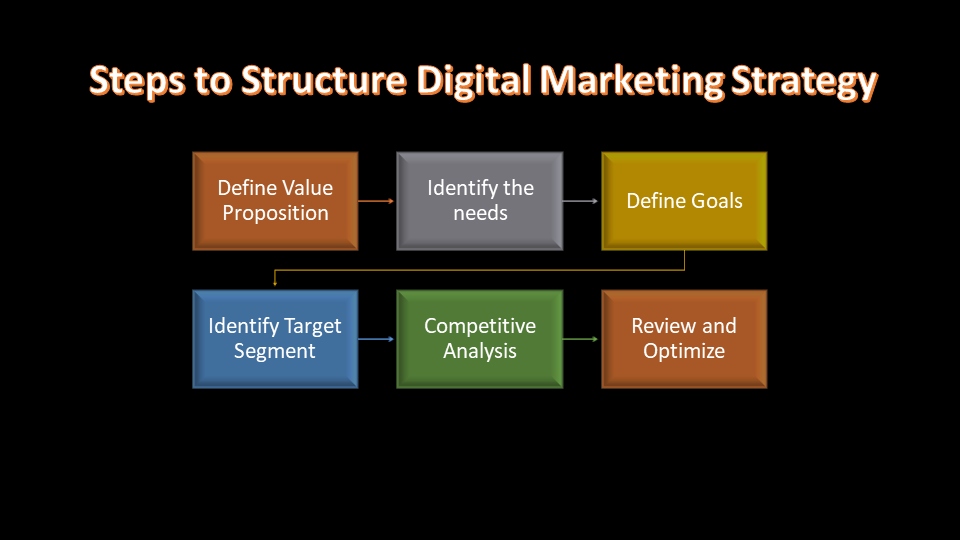 Define Brand's Value Proposition: Consider your company's USPs (Unique Selling Propositions) of your brands. Identify Points of Difference and Points of Parity from the competitor's products. Identify how you will generate value from your brand.
Identify the needs: Recognize demographic data such as age, gender, and location, as well as the incentives that lead consumers to purchase items and services. Use Google Analytics to help you create buyer personas and segment them based on their needs.
Define Goals: The next step in the process is to create goals for your brand. The goals should follow the SMART methodology, which is S: Smart, M: Measurable, A: Achievable, R: Relevant, T: Time-Bound. Setting goals will give you direction to work on and will keep you motivated.
Identify target segment: One of the most crucial aspects of a digital marketing plan is determining the target group. First, you need to figure out who you're marketing your goods to. To identify your target group, you may use tools like Google Keyword Planner, Facebook Audience Insights, Google Trends, and others.
Perform competitive analysis: Studying what your competitors are doing to be successful is known as competitive analysis. You may research your competitors, ideally those who rank on the first page, to discover what they're doing and how they're doing it. Then, you can devise a plan to outrank them based on this information.
Review and Optimise: Following the creation of marketing campaigns, it is necessary to assess them regularly to track website performance and improve areas where it is lacking. To evaluate the performance, several analytical tools such as Google Analytics may be employed.
Importance of SEO in Digital Marketing Strategy
SEO marketing is more vital than ever in today's competitive industry.
Every day, millions of people use search engines to find answers to their inquiries or solutions to their issues.
Your website would struggle to get the traffic it needs to stay afloat if you didn't use SEO. Customers won't find the website, which means sales will be lost and the platform will be squandered.
Of course, it's more important than that, with a variety of different advantages to investing time and money in improving your SEO.
Following are some of the advantages of SEO: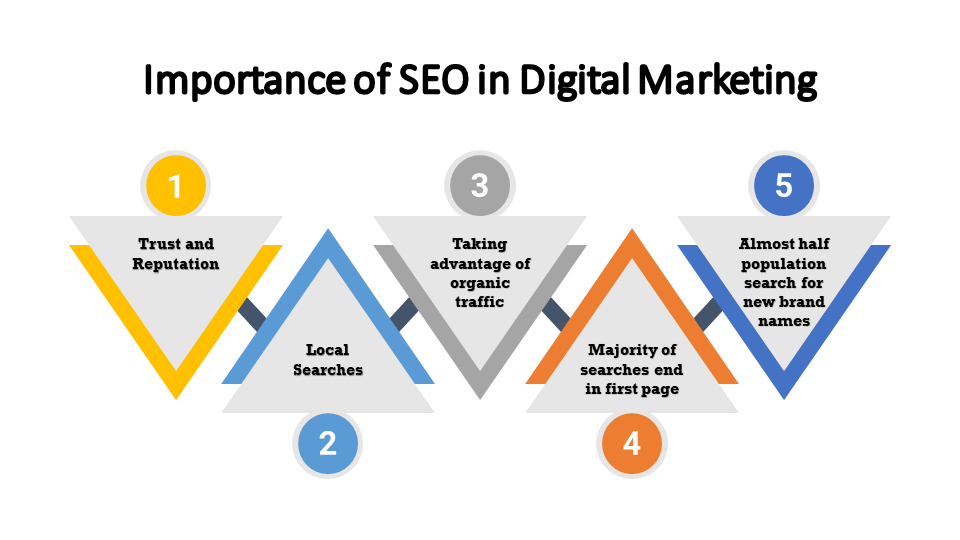 Trust and Reputation
Many customers will not buy from businesses they do not believe they can trust, instead of relying on services such as Google to show them the best of the bunch. This implies that if your organization does not show on the first page of search results, it will appear less trustworthy.
2.Local Searches
Local businesses, like SEO, may frequently suffer as a result of other businesses out-competing them. It might be difficult to reach out to people closest to you when there is so much competition online. SEO can help in optimizing your account such that it appears in the great majority of local searches.
3.Taking Advantage of Organic Traffic
According to a study, organic search results account for 51% of all visits to most websites (average all industries). In addition, people generally avoid clicking on advertisements and instead go directly to the organic results below, making SEO a great strategy to increase the number of visitors to your site.
4.The majority of people searching online don't go to the second page.
Only about ten percent of searchers go on to the second page of results.
When a person conducts a Google search, they often do not scroll past the first page of results. What is the reason behind this? First, they frequently discover what they're looking for, so getting your business to the first page of search results is crucial.
5.Almost half the population search for new brand names.
The majority of people who perform searches do not go straight to well-known brands. The majority of consumers prioritize discovering something that meets their wants, and they are willing to work with an unfamiliar firm if it can give what they need. Hence if you can do SEO, you can capture new attention.
Conclusion
If you are not already investing in SEO, you should do so, especially in a competitive channel or industry. Your rivals are most likely already doing so; make sure you get traction faster than they do. Let's chat about how we can help you enhance your SEO.
---