What is a Content Management System(CMS)?
Ever thought how easy it would be if you could manage content on your website without having to know the nitty-gritties of making changes in the HTML/CSS or any other backend framework?
That's what a content management system does for you.
A content management system, also known as CMS popularly, is a framework that allows users to devise, design, adjust, publish and manage content on a website through a user-friendly interface by handling all the basic backend infrastructure for storing images and creating new web pages.
Why should I opt for a Content Management System(CMS)?
Suppose you are an entrepreneur that's just starting or a small business that wishes to have a limited IT team. In that case, the following are the benefits of using a content management system (CMS) for managing your website:
The main advantage of using a content management system is that several people can work on it simultaneously and the changes can be updated and approved in real-time. Moreover, the content management systems interface is usually browser-based and can be accessed from anywhere without requiring a specific server or machine requirement.
In addition to its collaborative nature, most content management systems allow assigning specific roles using privileges to the website. For example, the content writers can be given the author's role, and others can comment or view the content as a viewer.
Using a content management system for a website eases the process of managing and editing the content. A user-friendly interface allows multiple people to make changes to the content and add pages, upload videos and images seamlessly through a button-click. The ease-of-use also eliminates the need for specialized people with the knowledge of HTML/CSS by opting for a content management system for a website.
How to choose the right content management system for my website?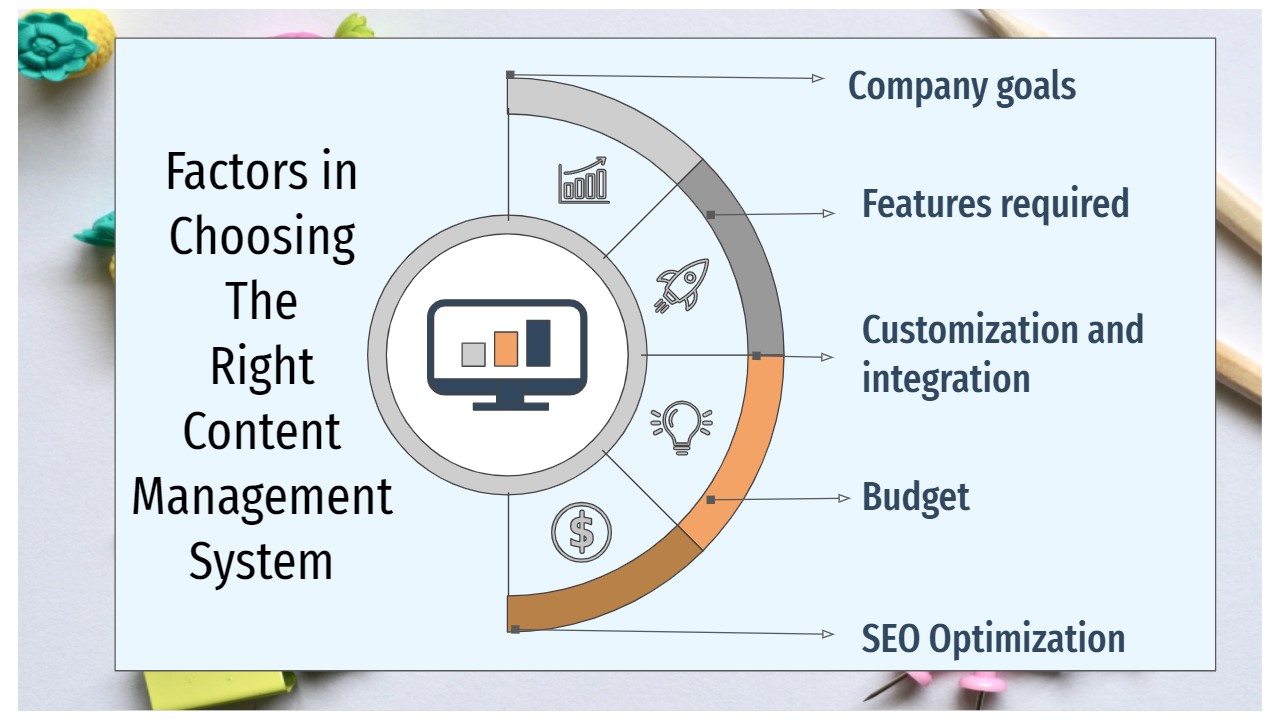 Although you should consider factoring in multiple parameters to identifying the correct content management system for your website, here are a few factors that will help you identify what is likely to work the best for you:
Alignment with your company goals
Features required
Customization and integration
Budget
SEO Optimization
Alignment with your company goals
Initially, you need to identify whether your company plans to use a content management system for the initial phase to avoid excess time and resources spent on managing technology or as a long-term strategy.
For example, your business should be clear whether it is seeking just the services like hosting and development or requires adding multiple features that may be complex to develop in-house.
Features Required
Content Management Systems offer a gamut of features, ranging from e-commerce based features to online learning management system-based tools. It is critical to identify whether the features taken into account are necessary. Too many of them will clutter the website unnecessarily while also decreasing the responsiveness of the site.
Customization and Integration
Most CMS also offer the option of developing plugins and widgets to implement specific functionalities. Based on your business functionality requirements, you can assess available options accordingly.
Scalability is also an important aspect to be considered while choosing a CMS. By identifying the extent of integration, ensure your CMS tools integrate with third-party apps and microservices so your website can grow and scale as required.
Budget
While most CMS offers free trials for a limited period, they charge based on the features you choose to implement in your website. Thus, it is important to consider your budget while choosing a CMS and taking input from team members by validating the workflow process.
SEO Optimization
Search Engine Optimization forms a crucial component of the content management system. The chosen content management system for the website should support faster page loading, include breadcrumb navigation, customize page titles and metatags, and support pagination.
Most CMS have crawlability allowing the search engine to index your website while also having a sitemap that improves its searchability
Content Management System Industry Growth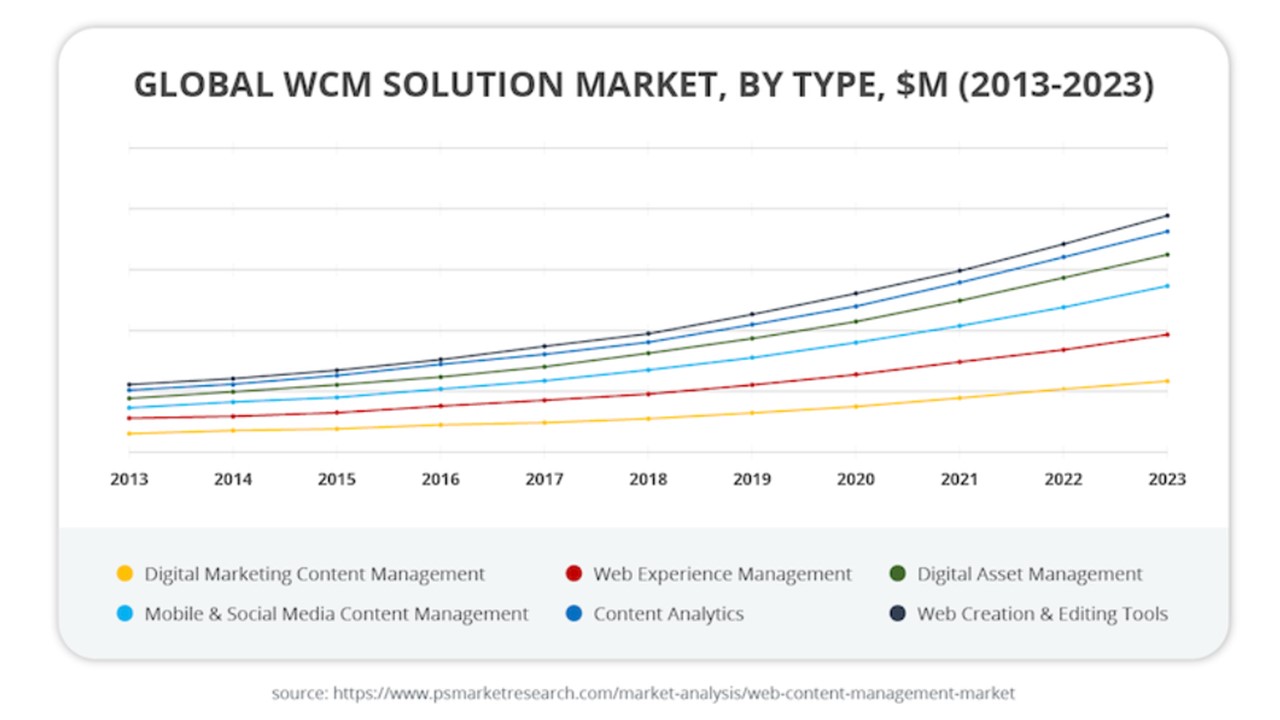 Top 3 Content Management System (CMS)
WordPress
WordPress is an open-source content management system that has multiple plugins for content management and SEO optimization. Moreover, it also allows you to choose templates for websites from multiple themes and add plugins to enhance the website's functionalities.
Check websites developed by Major-Brains on WordPress(CTA)
Joomla
Joomla supports several built-in features like multilingual support and advanced user management options. Community-based websites or social networking sites prefer using Joomla due to these features.
Magento
Magento offers extended marketing and catalog-management tools, because of which e-commerce sites primarily prefer it. It also provides a robust system from a security point-of-view and offers multiple plugin options that companies can use to improve their website's user experience.
Apart from these, other content management system examples include:
CMS Hub
Drupal
Ghost
Webflow
Sitecore
Using a content management system for a website, you can support collaboration across teams, use pre-designed templates for faster execution, and ensure seamless integrations without investing in developing an internal technical setup team for simple updates to your website.
---