"Email has an ability many channels don't: creating valuable, personal touches – at scale."
David Newman
Deciding on the platform to use for marketing to customers is not a small decision.
Often, businesses are faced with the question:
"Do marketing emails work?"
Email marketing tools deliver a whopping ROI of about 4400%. Besides, the main benefit of email marketing is that you can reach your customers in a more personalized way at an affordable cost in their inbox, which they are likely to check every day. It allows companies to deliver industry updates, promotional information, transaction details, and much more to its customers and further strengthen their brand.
Choosing the right marketing email is crucial for the success of your email marketing campaign. But, before we dig deeper into the types of marketing email, let us understand what email marketing strategy is?
An email marketing strategy involves reaching out to your target audience through personalized emails to convert them into prospects and mapping the objectives of your marketing campaign to the overarching business goals.
To receive the best ROI results on your email marketing campaign, it is essential to identify what content you want to put in your email. Afterall, marketing thrives on personalization and the content that works to bag that one important client might not work for other leads.
With marketing emails, you also need to be careful that you aren't sending a lot of irrelevant content, or else your hard-earned users might end up unsubscribing to your emails. Also, pay heed to CAN-SPAM Act and ensure that your marketing emails abide by the guidelines listed there.
What are the different types of marketing emails?
Digital Newsletter
Many companies are opting for digital newsletters to educate their customers related to a specific industry or a targeted domain. Newsletters are usually subscribed by users and are scheduled to be sent daily, weekly, or monthly.
Customers find value and credibility in the brand through the content provided in the newsletter. Many companies like Medium, Moz, Ben & Jerry use newsletters in their marketing communication.
How do you frame a digital newsletter?
Digital newsletters should be well-researched yet crisp, helping the readers skim through the summary. Some of the common themes that digital newsletter revolves around include:
Relevant news and updates related to a specific industry
Educational content that helps your audience expand their knowledge
Creating a "top-tips" series about your product or service
Beneficial reviews or statistics that the audience can benefit from
Product Update Email
Product Update emails come in very handy when you want to inform your customers about new product development or the latest updates related to services you offer. This is a great way to tell your customers that your company is working its best to deliver continuous updates to its customers.
E.g., let's say you are a SaaS company and want to tell your existing clients about the new features that are now available on the online tool you offer. You can send your clients an email about the new features along with attaching a "how-to" video link in the email as well as the "In case of any doubts, reach here" line to answer their queries.
This helps customers find all the material they will need to learn and implement the new feature in a single place.
How do you frame a product update email?
It is best to keep them simple and straightforward. Ensure that you don't keep sending many product update emails now and then, but club 3-4 product updates and send them in a go as frequent emails might irritate the customer. Try explaining the feature clearly and briefly by including images or infographics that showcase the product or service. You can explain the working details by providing links to every features page.
Transactional Email
Usually, marketing emails are sent to a group of people. However, transactional emails are sent to one customer at a time, based on the action taken.
These are the emails such as Order Confirmation mails, Billing Information mails, Welcome emails, or Thank You emails.
Businesses use transactional emails to communicate key information to the customer at various stages of their purchase journey.
How do you frame a transactional email?
The purpose of a transactional email is to acknowledge or facilitate a specific action taken by the customer. This reinforces customer belief and makes them feel safe about their transaction with the company.
Companies do not require consent from the customers to send transactional emails and hence, it is critical that companies do not include any promotional communication in transactional emails.
Informational Email
Informational emails describe and promote a specific event or an offer related to the company's products and services. These emails are linked to a specific "call to action(CTA)" with a business objective. This type of email usually involves announcements of sales, coupons, free trials, referrals, or events such as a webinar, open house, etc.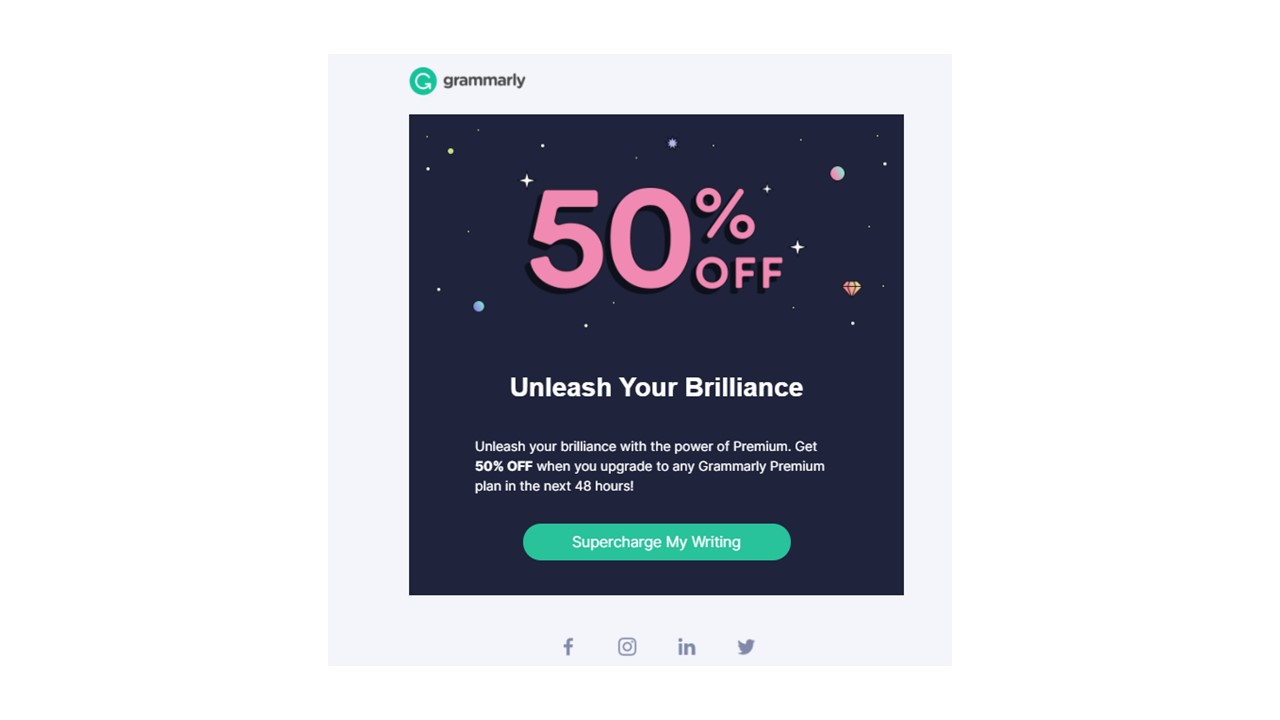 How do you frame an informational email?
It is important to make your informational mail look catchy and attractive by highlighting the main offer. It would be best if you also considered putting a lot of thought into the call-to-action links and buttons to make them act as triggers to customer purchases. Use actionable language, clear description, and a captivating subject line to gain maximum conversion out of your informational emails.
Now that you know about various types of marketing emails, I am guessing you must have a lot of questions, and lets try answering some:
How do you start a marketing email?
So, to begin with, a marketing campaign, you need to have a database of all the client's emails you wish to target, and you need to choose a web-based provider. You can send mass marketing emails through an email management tool.
Which is the best Email Marketing tool ?
The choice of your email marketing tool is based on the size of your mailing list and the specific results you are targeting. It would be best to choose an email marketing service that helps segment your customers into groups, schedule the emails and provide designing options. Some of the popular email marketing tools are Mailchimp, SendInBlue, ConvertKit, SendGrid, and many others.
How do I use Gmail for marketing email?
Yes, you can use your Gmail account to launch a marketing email. Gmail has a limit of 500 emails in one day, and it can work for businesses having a small mailing list. You can create a Gmail mail merge that pulls mail addresses from a google sheet and sends the emails. You can also design, track and customize your emails using multiple additional plugins available for Gmail.
Email marketing efforts need to be consistent and should add value to your customers. By analyzing various metrics such as opens, click-through rates, and email deliverability, you can improve your marketing campaigns by figuring what suits your clients the best!
Sounds Awesome?
Let Majorbrains help you start an email marketing campaign today!
---