Introduction about Google Ads
Advantages
Types of campaigns in google ads
What type to choose for your business ( show with example)
Conclusion
With businesses moving online, it is important to be visible at the exact time and place when users search for your business or the products/services you offer. Advertisers often use Google Ads to increase brand visibility, drive conversions and reach a wider audience. Let's quickly understand what Google ads are all about!
What are Google Ads?
Google Ads allows companies to run advertisements and reach out to consumers who are willing to buy while being displayed on the search engine results page under the promoted section. Advertisers can customize and set their Google Ads to target specific markets, particular websites and can run across multiple applications and anywhere within the Google network.
Display ads, search ads, app ads, and video ads are some formats to place your advertisements.
Why should I use Google ads?
You might have heard multiple people asking you to opt for Google ads, but why do so? Let's see some of the reasons why your business should use Google Ads:
Google Ads play a significant role in promoting and increasing a brand or company online due to the numerous opportunities available. For search ads, keywords can be tailored to directly approach potential buyers who are actively looking or searching for your product.
Google Ads platform follows a pay-per-click structure where you pay for the ad only if a visitor clicks on your ad.
You do not need a hefty budget to start if you strategize your bids effectively.
It also provides powerful techniques to capture visitors' information with a post-click landing page. This information is a great opportunity for businesses with big-ticket products to use retargeting softwares directed at these visitors.
Thus, Google Ads is a highly specific tool that you can leverage to monitor your audience, target specific segments, check intent purchases of your product portfolio and get maximum visibility for your products and services.
Now, let's look at different types of ad formats that Google offers:
What are the different types of campaigns in Google Ads?
Google provides you the option of listing a goal and a campaign type. It is important to choose the right type of campaign to address your business goals and marketing requirements.
Search Campaigns
Display Campaigns
Shopping Campaigns
App Campaigns
Local Campaign
Video Campaign
Google search ads can provide you tremendous exposure by allowing you to show up in the search results for your preferred keywords. This campaign type is specifically recommended for services that do not have specific products to show.
E.g., if you are a hospital and intend to appear on top of the search engine results page, you can opt for google search ads and target specific keywords. Let's say you are well known for laparoscopic surgery. Then you are more likely to show up every time someone searches for a keyword like: "affordable laparoscopic surgeries."
Search ads are a great option for generating leads and getting more traffic to your website. It is highly beneficial when you have a longer sales cycle and want to reach out to people with a high willingness(at the end of the sales funnel) to convert into customers.
Due to its simple setup and automated bidding options, search ads are a great way to begin your pursuit of search engine marketing.
Display campaigns allow you to post image ads on websites and apps. Display advertising is an excellent way to extend the scope of your Search campaigns to other areas of the internet using visually appealing content.
You can also use display ads to target new and current customers with remarketing advertising.
E.g., If you are an online fitness app and want to make more customers aware of your services, instead of relying on search ads, you can opt for display ads with catchy headlines and specific call-to-action. Moreover, instead of just confining to search ads, you will have the opportunity to get your ad displayed on a health and lifestyle website where there is a greater willingness in the prospects to consider your services and enter the sales funnel.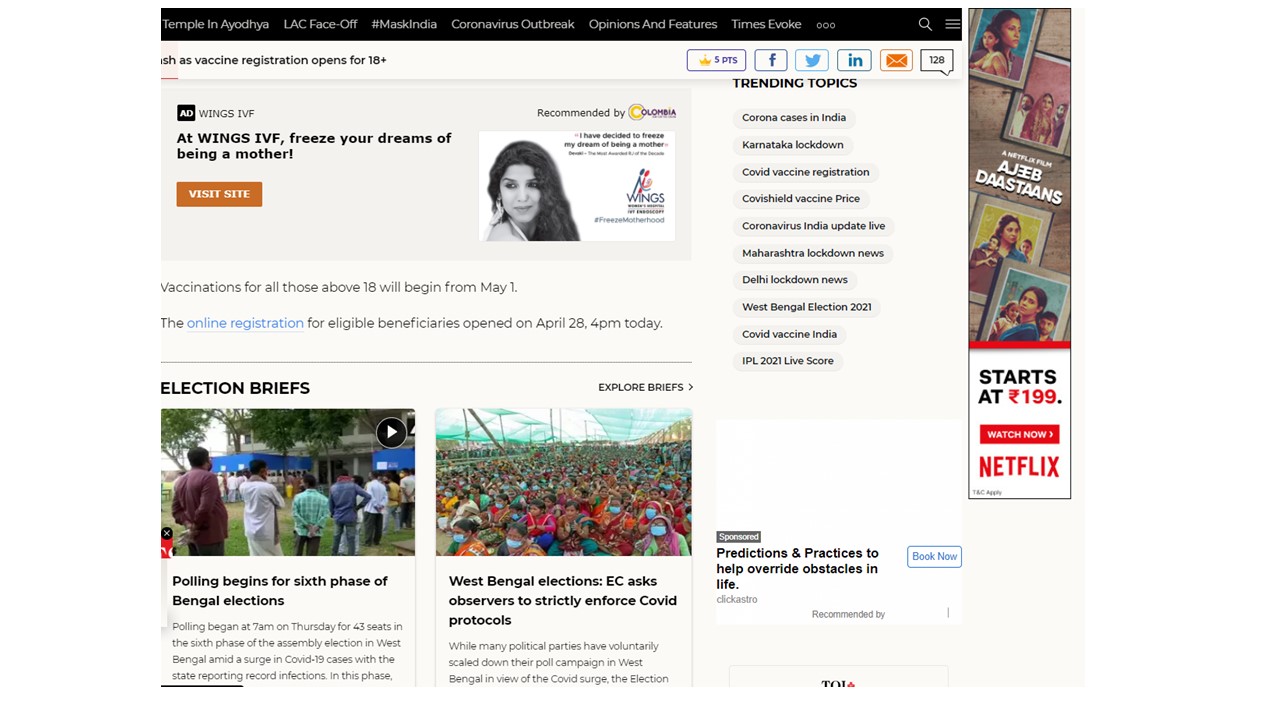 Display ads allow you to make visually appealing and memorable ads to capture the attention of the customer. It also helps you target people browsing other related websites.
You can use any image-editing tools to create display ads in the right dimensions to fit various website spots.
Shopping campaigns are an excellent option if you are a retailer or trying to sell products online. Shopping campaigns help you promote your inventory, find more qualified leads, and increase traffic to your site or local shop. You need to register at the merchant center with various product details to set up a google ads campaign.
E.g., if you are a small business selling wall clocks, you can reach out to a greater audience by opting for shopping campaigns.
Shopping ads appear both on the Google Shopping tab as well as the search results. They are a great way, especially to showcase your products, display customer reviews and get more people to buy your product. You can also outshine your competitors if you provide customers with a better deal, driving revenues for your business.
App advertisement campaigns can be viewed on multiple channels such as youtube, google display network and google play store. It can be a great option if you have just started a new app for your business, as it can help you promote more in-app activities and app installations. They are easy to use as Google automates your bids by basing them on your specified target.
E.g., You own a saloon and have recently come up with an app for your customers to book appointments. You want your customers to use this app so your goal can be app installs. This way, using Google's algorithms, you can ensure that your app is visible to your target audience.
You can use text, images, and even videos from your app's store listings to design your ad. Google automatically tests combinations and chooses to show the ads that perform better.
Local campaigns are often linked to a company's offline goals. Local campaign ads make it simple to advertise your business through google maps, google search network, youtube, and google display network. Local ads can be very useful to assist companies in providing information to potential customers so that they can determine when and how to visit their shops.
E.g., You own a yoga center and would like people in your locality to know about your venture. Then through a local campaign, they can see store visiting hours, directions, and contact numbers through google's
Video campaigns enable you to place ads in YouTube videos and websites and apps that use Google video partners. This article discusses the advantages of video promotions and how to use them to achieve your company objectives.
Video Campaign advertisements are offered in a variety of formats, including:
Instream ads (that are skippable after 5 seconds)
Bumper Ads-(cannot be skipped by viewers and are a maximum of 6 seconds in duration)
Video Discovery Ads(Ads appears on Youtube search results and youtube home page)
Outstream Ads(appear on websites and apps on google video partners)
Campaign Type

Primary Benefits

Target

Search Campaigns

Easy setup
No additional files required

Achieve high targeting
Boost sales and leads

Display Campaigns

Visually engaging
Remarketing Customers

Awareness and consideration
Expanding reach
Clearly linked CTA

Shopping Campaign

Retail Marketing
Boost your local store

Get better-qualified leads
Boost sales

App Campaign

Multi-channel Marketing
Easy setup

Increase installs and signups
Boost engagement for your app

Local Campaign

Multi-channel Marketing
Detailed location information

Promote offers and in-store events
Boost sales of physical stores

Video Campaign

Remarketing
Sophisticated ads

Boost Awareness
Drive conversions
Thus, by identifying intent, relevance, business goals, budget and reviewing your target audience, Google Ad campaigns can be a huge boost for your business.
Check out our blog on Google Ad Bidding Strategy.
---