LinkedIn is one of the fastest-growing social media platforms. Its identity as a professional network has paved new ways for businesses to incorporate it into their social media strategy. LinkedIn can help you build a network, connect with leading professionals in the industry, boost your hitting efforts and get peer insights and recommendations for your B2B business.
Is LinkedIn good for B2B marketing?
LinkedIn is quite different from other mainstream social media platforms, which are preferred more for entertainment. LinkedIn Is used by professionals who aspire to career advantages and business relationships developed through this network.
Reasoning why LinkedIn is good for B2B marketing to include:
Generate leads
Build a reputation for your brand
Connect better with your employees
Target based on Job senioritis, company size, job functions and other critical elements
Create awareness about your company among decision-makers
Still not convinced?
Let's go through some of the top statistics.
Why is LinkedIn the best for B2B marketing?
Some of the top LinkedIn statistics suggest that it can be a really useful tool for B2B marketing1:
4 out of 5 members on LinkedIn drive business decisions.
96% of B2B content marketers utilize LinkedIn for organic social marketing
33% of B2B decision makers rely on LinkedIn to research purchases
How effective is LinkedIn Marketing?
Let's also see how businesses across the world are leveraging links for marketing from this statistics2:
LinkedIn is responsible for about 80% of B2B leads.
Linked in also owns about a half of total social traffic to B2B sites.
LinkedIn helps in generating leads about 277% more effectively as compared to Facebook.
Impressive, right?
So, before any further ado, let's deep dive into knowing how to do b2b marketing on LinkedIn.
What is LinkedIn marketing strategy?
LinkedIn is a professional tool and requires a marketing strategy before you start getting to post content. Be it using ads, posting content and engaging with the community. A marketing strategy comes in very handy. Here are some things that you should include in your LinkedIn marketing strategy:
Research on your target audience
Choose your business objectives
Set engagement and activity targets based on your goals
Create a posting schedule
Plan for building a strong referral network
Maintain a formal and informative tone in all your communications
An optimized profile, quality content, timely responses and consistent efforts can help you build a strong network over LinkedIn.
Wondering what LinkedIn best practices are?
We've got you covered!
How to do B2B marketing on LinkedIn?
Here are some of the tactics you can incorporate in your LinkedIn marketing plan to get the best results:
Create a convincing company page
Utilize LinkedIn community features
Leverage LinkedIn Ads
Share quality content
Engage with employees
Create a convincing company page
Your company's page is like a landing page for lead generation. Of course, you'll mention the information and facts about your business, but it is important to create a compelling page that not just informs the user but impresses them enough to do business with you. LinkedIn has many features that you can use to enhance your profile.
To create a convincing company page, you must highlight any:
Patents, certifications or awards
Successful projects
Status updates
Articles and presentations
Recommendations
Area of expertise


Utilize LinkedIn community features
One of the most useful aspects of LinkedIn is to build a community around your area of expertise, industry or profession. This can help you connect with partners, clients, experts and another member for broadening your network and widening your reach.
Groups and influencers are two types of basic community features.
Groups
You can join a group focusing on your expertise to stay informed about the recent trends in the industry. You can even start a group to build a community around your product/ service.
E.g., Let's say your company offers project-management software, then you can have a group about workplace productivity where members come and share their hurdles. This will help you solve their problems and also ideate a few features that you can have in your tool.
Influencers
Connect with industry leaders in live events, discussions and debates to express your credibility and expertise as a B2B company. Many decision-makers often rely on influencers, and you can get noticed through your participation.
Leverage LinkedIn Ads
Are you wondering, How do I get clients from LinkedIn?
LinkedIn Ads can increase your brand exposure and help in lead generation for your business.
LinkedIn offers various ad format options to B2B marketers, such as Sponsored Content, Sponsored InMail, and Text Ads. In addition, LinkedIn Video Ads are also emerging as one of the most sought-after ad formats.
Sponsored Content: Regular post with an ad budget to increase its reach
Sponsored InMail: This allows you to deliver personalized messages to your audience.
Text Ads: Text ads are used to generate leads and promote certain deals. They are displayed at the top or right side of users' feeds.
LinkedIn Video Ads: Video Ads are the most efficient technique to boost your content's views as they are played automatically in users' feeds.

Contact us for Linked Marketing Services
Share quality content
Good content helps you build brand authenticity and trust. If your viewers discover value on your page, they'll be incentivized to connect with you or follow you on LinkedIn to build a long-term relationship with your business.
What should B2B post on LinkedIn?
Blog posts and LinkedIn articles
Latest trends in the industry
Research, case studies and reports
"How-To" and "Quick Tips" Posts
Company updates

Engage with employees
Your employees are one of the most effective brand ambassadors since they represent your brand and serve as prospective recruiters. By engaging your employees through your B2B company page on LinkedIn, you can improve employee engagement and employee retention. Employees can also boost organic LinkedIn engagement that can help you increase your brand visibility and get more leads for your B2B business.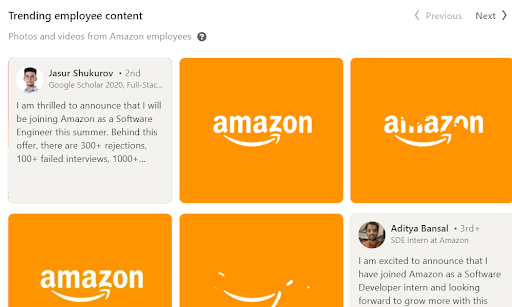 Wrapping up…
LinkedIn marketing can help your B2B business unlock its growth potential by generating leads and developing long-term relationships with your clients. Surprisingly, you don't need a large expenditure to thrive in LinkedIn marketing. Instead, you need the right kind of effort to develop high-quality content, participate in community discussions, and curate engaging LinkedIn Ads.
Need help in getting started with LinkedIn marketing for your B2B Business?
Check out MajorBrains social media services so we can collaborate to get your B2B business the visibility it deserves!
---