The terms "growth marketing" and "digital marketing" are frequently interchanged and are generally thought to be the same. However, they are very different when it comes to the concept and the process of using them in the brand.
Let us deep dive into each one of them and find out the differences!
What is Digital Marketing?
Digital marketing, often known as online marketing, is the promotion of brands, products, services or ideas using the internet and other kinds of digital communication in order to engage with potential clients. As a marketing channel, this comprises not just email, social media, and web-based advertising but also text and multimedia communication.
Digital marketing is a key component of practically every company's overall marketing strategy. There has never been a better method to remain in touch with your consumers on a continuous basis, and nothing compares to the amount of personalisation that digital data can bring. The more you embrace digital marketing's possibilities, the more you'll be able to achieve your company's potential for success.
What is Growth Marketing?
Growth Marketing is similar to Growth Hacking, but they are not the same. Growth marketing examines the complete consumer buying process and looks for methods to improve it. It does not concentrate on a single channel but rather on a number of them to achieve the best results in the least amount of time.
The area of growth marketing has become more sophisticated as marketing technology has improved. Growth marketers are developing experiments around what content is viewed and when by different user groups and utilising the findings to design highly optimised plans for each identified user group, down to the individual level, utilising A/B testing and multivariate testing.
Growth marketing also leads to higher client retention rate (customer retention rate), low churn rate and satisfaction as you move farther down the funnel. You're no longer seeking to monetize your audience when you prioritise offering exceptional customer experiences. Instead, you are now looking for new methods to provide valuable information to each user's ongoing experience, rather than pushing material focused at conversions and income.
Here are some advantages of growth Marketing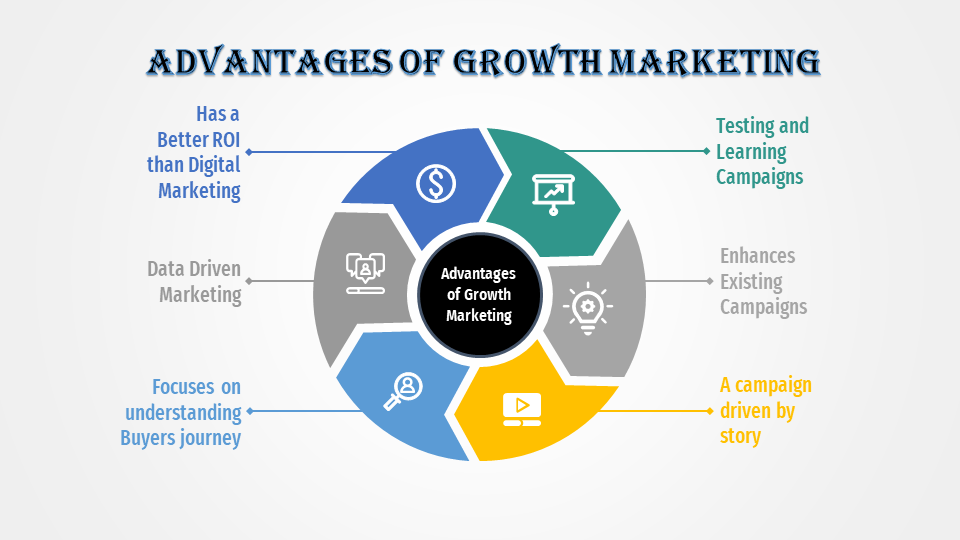 After knowing the basics of both Digital and Growth Marketing, let us now understand the subtle differences between them.
Difference Between Digital Marketing and Growth Marketing
Parameter

Digital Marketing

Growth Marketing

Principle

Collection of digital marketing strategy encompasses everything from SEO to email marketing to PPC and digital advertising.

Emphasises goal-setting, data analysis, and testing and experimentation. It employs a variety of digital marketing tactics, but its primary purpose is to help your organisation achieve quantifiable growth.

Goal identification

Focuses on identifying goals of the brand

This identifies one single goal to focus on all the time. This goal is known as North Star Metric.

Focus

Creating a campaign strategy for a brand is the main focus in digital marketing.

Uses data and intuition to come up with unique development projects.

Execute on a few, frequently off-the-beaten-path channels, and check at the north star metric.

Execution

After identifying different channels for a campaign strategy, execution will include the respective activities.

This step integrates the successful tests into their workflow after trying with several channels.

Techniques

SEO
SMM
Content Marketing
PPC Marketing
Email Marketing

A/B Testing
Cross Channel Marketing
Customer Lifecycle

Examples

Campaigns to attract new customers.
Campaigns aimed towards increasing conversions.
Campaigns aimed at retaining customers and building trust.

Loyalty
Top of the funnel engagement
Onboarding of new customers
Referral Programs to drive more reach through existing customer base
Last but not least, to have a clear knowledge of digital marketing vs. growth marketing, keep in mind that the two are not mutually incompatible.
Digital marketing is the wheel that propels you toward your strategic growth target. Your growth marketing plan is the road plan that helps you find that goal and stay on track.
As a result, when your organisation adopts a growth marketing strategy, you aren't abandoning digital marketing. Rather, you are choosing the best digital marketing tactics that may be beneficial to achieve your goal.
Conclusion
Although digital marketing and growth marketing are two distinct schools of thinking, you will need both to succeed in today's digital environment. However, it is always advised that you take advice from experts who can help you throughout the process of branding for your company. MajorBrains is one of the best Growth Marketing and Digital Marketing firms in India. Connect with us, and we will surely help you out!
---